The Com​mon Data Set (CDS) is a set of standard data and definitions created through the collaborative effort of data providers in the higher education community and survey publishers, such as the College Bo​ard, Peterson's, and U.S. News & World Report. The combined goal of this collaboration is to improve the quality and accuracy of information provided to all involved in a student's transition into higher education, as well as to reduce the reporting burden on data providers.
Dashboards & Reports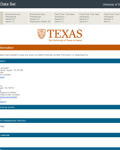 User friendly dashboard with data from current and historical University of Texas at Austin CDS reports.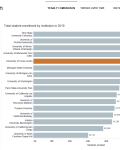 Dashboard displaying collection of CDS measures reported by The University of Texas at Austin and peer institutions.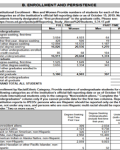 Current and archived University of Texas at Austin CDS reports in PDF format.
New Feature!
CDS Peer Comparison Data
In addition to our interactive reports of current and historical UT Austin data, we now have an interactive report highlighting how UT Austin compares to its peers. Click on 'Interactive Report of Peer Comparison Data' to learn more.